Dental Implants in Yakima
Provide Top-Tier Tooth Replacement
When you lose one or more natural teeth, it can be devastating for your appearance, for your oral health, and even for your overall quality of life. At Terrace Heights Dental Center, Dr. Bonny can help you regain what's missing with several quality reconstructive solutions, including dental implants. Implants provide impressive longevity, seamless aesthetics, lifelike durability, and more benefits to patients in need; in fact, most people can't even tell the difference between implant-retained "teeth" and natural teeth! Please contact us today to learn more, or if you're ready to schedule a first appointment here in Yakima, WA.
Why are Dental Implants a Good Choice?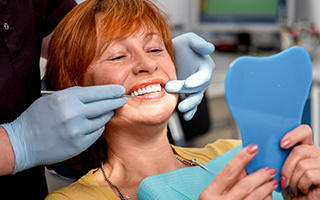 Your natural tooth has two distinct parts to it. There's the white crown, which makes up your smile and is very well-known. Additionally, there is a root that is completely hidden beneath the gum tissue. These roots provide much-needed support and also stabilize the jawbone. When traditional restorative services are used to replace missing teeth, the aesthetic value may be replaced, but this important support is lost. As a result, patients tend to experience bone deterioration and reduced oral health over the years.
Dental implants stand alone in their commitment to replicate every part of the tooth! The implant itself is a new "tooth root" that's inserted into the jawbone so that it can bond with the natural tissue and create an enduring foundation for the restoration. As a result, implants can often serve patients well for the rest of their lives.
What are My Options for Dental Implant Restoration?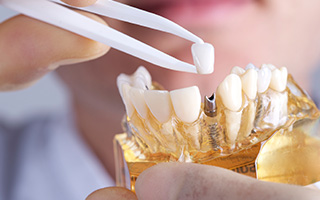 Dr. Bonny's recommendation for your new implant restoration will depend on the number of teeth and/or implants that require coverage. He will work with you closely in order to ensure that the final product fits in well with your personal needs and preferences and feels great as the newest part of your smile.
When we're rebuilding a singular tooth/implant, an all-ceramic dental crown is the best option. This crown can be placed without negatively affecting surrounding healthy teeth, and its lifelike appearance will blend right in.
If we need to replace multiple consecutive teeth, our strategy can include an implant-retained bridge. The prosthetic will be attached securely in place with the help of anchored implants on either side of the gap.
Alternatively, implant-retained prosthetics are an excellent and cost-effective option that can cover several placed implants at once. Depending on the patient's choices, we can design this appliance as fixed (permanent) or removable in nature.